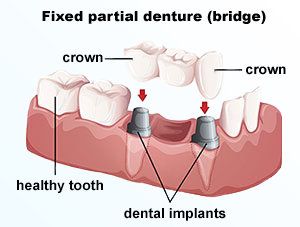 A dental crown may not make you feel like royalty, but it is one of the premiere treatments for teeth with extensive decay or damage. Dental crowns can also used to hold a dental bridge in place, cover misshapen or severely discolored teeth, or cover a tooth after a root canal procedure. Made of either porcelain-fused-to-metal, ceramic or gold, dental crowns are placed during a multi-step process and sometimes require more than one dental visit. The first step is a dental impression. A temporary crown is then placed to protect the tooth while the impression is sent to an offsite laboratory to create the final restoration. In some cases, same-day crowns are possible, so be sure to inquire. With good oral hygiene and minimal wear and tear, your beautiful new dental crowns can last up to 15 years.
Dental Bridges
Dental bridges have been used for centuries to replace missing teeth. Today, dental bridges are still considered one of the most durable, conservative and cost-effective options for bridging the gap between a missing tooth and surrounding teeth. Comprised of two anchoring teeth and a replacement tooth, dental bridges help prevent surrounding teeth from drifting out of position, improve chewing and speaking, and help keep your natural face shape in tact.
There are three types of dental bridges: 1) traditional dental bridges, 2) cantilever dental bridges, and 3) Maryland bridges. Traditional bridges have either dental crowns or dental implants on either side of the missing tooth, plus a replacement tooth, which is held in place by a post-like structure called a dental abutment. Cantilever dental bridges are used in cases where there are surrounding teeth only on one side of the missing tooth. Maryland bridges are made of a specialized resin that is cemented to a metal framework and cemented to the enamel of surrounding teeth.
Dental bridges typically take 2-3 weeks to complete and are less invasive than other options, such as dental implants. With good oral hygiene and regular dental visits, dental bridges can last up to 30 years.